40Gb/s QSFP+ LR4 10km Transceiver
Flyin's FYQXP-27A4-10BD is designed to operate over single-mode fiber system using 4X10 CWDM channel in 1310 band and links up to 10km. The module converts 4 inputs channel of 10Gb/s electrical data to 4 CWDM optical signals, and multiplexes them into a single channel for 40Gb/s optical transmission. Reversely, on the receiver side, the module optically de-multiplexes a 40Gb/s input into 4 CWDM channels signals, and converts them to 4 channel output electrical data.
Order Parameters
Data Rate:

40Gbps

Distance:

10km

20km

30km

Connector:

LC

DDM:

Yes

No

Wavelength:

1271/1291/1311/1331
Click to add a consultation
The central wavelengths of the 4 CWDM channels are 1271, 1291, 1311 and 1331 nm. It contains a duplex LC connector for the optical interface and a 38-pin connector for the electrical interface. Single-mode fiber (SMF) is applied in this module. This product converts the 4-channel 10Gb/s electrical input data into CWDM optical signals (light), by a 4-wavelength Distributed Feedback Laser (DFB) array. The 4 wavelengths are multiplexed into a single 40Gb/s data, propagating out of the transmitter module via the SMF. The receiver module accepts the 40Gb/s optical signals input, and de-multiplexes it into 4 CWDM 10Gb/s channels. Each wavelength light is collected by a discrete photo diode, and then outputted as electric data after amplified by a TIA.
The product is designed with form factor, optical/electrical connection and digital diagnostic interface according to the QSFP+ Multi-Source Agreement (MSA) and compliant to 40G FYQXP-27A4-10BD of IEEE 802.3ba.
Features
Applications

4 CWDM lanes Mux/Demux design

40G Ethernet

Up to 11.1Gbps Data rate per wavelength

Data Center and LAN

Up to 10km transmission on SMF

Electrically hot-pluggable

Standard

Digital Diagnostics Monitoring Interface

Compliant to IEEE 802.3ba

Compliant with QSFP+ MSA with LC connector

Compliant to SFF-8436

Case operating temperature range:0°C to 70°C

RoHS Compliant.

Power dissipation < 3.5 W
Outline Dimensions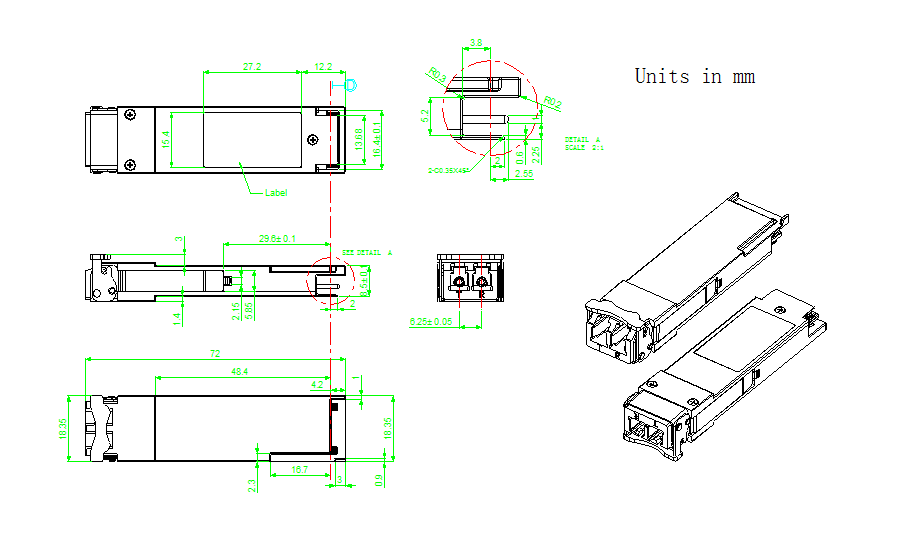 ---
The production workshop show
Recent browsing of products